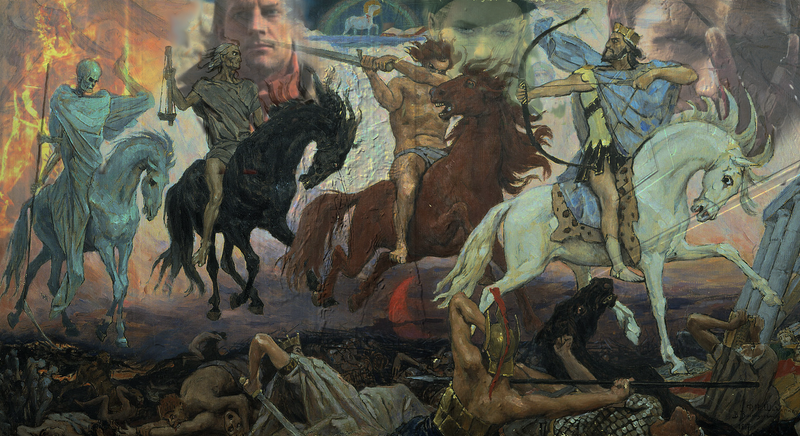 Game Club is an article series that explores tangential, referential, and philosophical connections in video games. Like a Book Club, the idea is to foster discussion between players about the artistic flourishes in video games, in narrative, gameplay, or design.
Welcome to the inaugural edition of Game Club. Today we'll be talking about the Metal Gear series and a perceived connection to the Four Horsemen of the apocalypse. This article and the comments below will contain spoilers for most of the Metal Gear series, and particularly Metal Gear Solid V: The Phantom Pain.
The Four Horses
Personally, I've been a fan of the Metal Gear series since the release of the Playstation Demo CD that included the shipping hangar section of Metal Gear Solid. From the moment I completed that short little bit of gameplay, I knew I wanted to be involved in that series. Luckily, I was in a position to immediately play Metal Gear and Snake's Revenge (but not MG2: Solid Snake, unfortunately), so I was sated until MGS was released proper, but I've been in love with the series as a whole since those first cinematic moments.
From what I've found, that doesn't particularly make me an expert on the topic, but it does make me want to talk about it, a lot.
Yesterday, a friend of mine asked me "Since ur all knowing mgs guy. What's with the giant whale and flaming pony?"
Obviously, this was in reference to the initial mission from Metal Gear Solid V: The Phantom Pain, wherein Venom Snake is chased down by the Man on Fire, and his steed, and seems to hallucinate a whale made of fire.
via imgur
via a still from MetalArcade's video
I hadn't given it a lot of thought, but I had been kicking around this idea of Metal Gear and the Four Horsemen of the Apocalypse, as referenced in the book of Revelations from the Christian Bible.
If you are unfamiliar, the cliff notes is that when the time has come for the apocalypse, four horsemen - Conquest, War, Famine, and Death - will ride out and apply the apocalypse to Earth, via their namesakes.
Now, I realize it's a bit of a cliche to link any horse-related thing to the Four Horsemen, but the more I tried to give an overview of the idea to my friend, the more I thought it worked.
As far as I'm aware, there are only 4 horses in the entirety of the Metal Gear series (please correct me if I'm wrong). The first was the horse ridden by The Boss, in Metal Gear Solid 3: Snake Eater.
via Metal Gear Wiki
The next horse we see is The Man On Fire's horse
via imgur

After that, we see Ocelot on a horse, but I don't have any reason to believe that the horse he is riding is not D-Horse, which I feel like can be thought of as Venom Snake's horse.
With that in mind, the next horses we see, with their appropriate riders, are Ocelot and Venom Snake's horses.

via GNN
So with these characters in mind as the horsemen, we can set about defining which horsemen each of them represent.
The Four Horsemen
The Boss - War
via FunnyJunk
This may be a bit controversial, but I find The Boss to be the analogue for the horseman War.
I realize that The Boss' goal was to live in peace, but not only was she, herself, a consummate soldier, but she also kicked off the events of the entire series with her philosophy (regardless of her intent), which leads to a penultimate conclusion of the entire world being enveloped in perpetual warfare.
Not wanting to let soldiers be tools of governments allowed PMCs and entire military nations (Outer Haven) to arise.
To further the concept, there are two horsemen that seem to overlap each other - Conquest and War. So, there are many who think that Conquest represents war waged against other cultures, whereas War represents a civil war (or sometimes inner turmoil). This, I think, is heavily embodied in The Boss. Not only was she a perfect soldier who did her duties without hesitation that also longed to be free from the oppression of governments, but her ideals were also splintered into two warring factions - Cipher (The Patriots) and Outer Haven.
Aside from that, I feel that she, better than any of the other three, most embodies War.
Big Boss - Conquest
via imgur
Somewhat less controversial, I think that Venom Snake, or Big Boss, represents Conquest.
To start with, we know that Big Boss and Venom Snake are only one in the same because Big Boss is a legend. Venom Snake, the man, was never awarded the title of Big Boss, but he was given the chance to proliferate the legacy. That makes D-Horse not only Venom Snake's (he was just a military asset) but Big Boss'. It was Big Boss' military that D-Horse was technically a member of.
And Big Boss conquered in major ways.
Not only did he create an entire military that was beholden to no government, made up of soldiers from governments and cultures the world over, but he did it on multiple occasions. Militares Sans Frontiers. Outer Heaven (MGSV). Outer Heaven (MG). Zanzibarland/Outer Heaven (MG2:SS).
In each of these instances, he conquered and put forth the idea of a world beyond war, because soldiers were not tools of a government. He foiled the plans of all governments that he deemed to dangerous, employing every possible tactic; Espionage, subterfuge, disinformation, distraction, and all out brute force, among so many others.
One could say that he was outmanuevered in this respect, by Cipher. After all, Cipher did go after information, instead of people, which lead to a huge conquest of the digital age. But, while I think Big Boss spent most of the 'war' in a losing position, he's still the one who killed Zero. He's still the one who's cloned son dismantled Cipher's entire operation. When it comes to conquest, didn't he end up winning his war?
Ocelot - Famine
via imgur
Ocelot is a bit of a stretch, I think, but I really like the idea of how it fits. To me, Ocelot represents Famine.
Ocelot's modus operandi was that of manipulation and information. In the chronologically latter half of the series, he was playing in the big leagues with Cipher about the control of information. He could let someone know just enough to hang themselves, or starve others of key details that would have allowed them to prosper. While he was a formidable opponent on the battlefield, throughout his career, he was always a larger threat in the information he knew.
To apply that to the horseman, he controlled that information flow. It's interesting to note that while the word "famine" simply means "scarcity", the horseman actually heralded a specific scarcity. His creation is accompanied with a voice saying "And see thou hurt not the oil and the wine". So Ocelot wasn't a character designed to provide scarcity, but to control scarcity. And that scarcity was of information.
It's notable that the information Ocelot traded in directly led to the downfall of almost any organization he participated in. As a GRU commander, he was actually a double agent, helping The Boss, to make sure he wouldn't interfere with Naked Snake's mission. When Khrushchev was outed, Ocelot gave valuable information to the U.S. which can be said to be responsible for the downfall of the Soviet Union. When Big Boss was developing the Militares Sans Frontiers, he was working with Cipher, but planted seeds that would allow him access later. When he joined Liquid's rebellion, he knew information about the entire operation that would have allowed Liquid to succeed, but instead furthered his own goals in taking down Cipher, via his connections with Gurlukovich. Later, in his dealings with the patriots, he even underwent hypnotherapy to hide truths from himself, so that he could be better equipped to control the flow of information.
In all of his dealings, he facilitated the conflicts that he thought would lead to the world The Boss envisioned. If Famine was supposed to control the flow of food, in such a way as to preserve the finer things, this would allow for a major disrupt between the wealthy and the poor. Thus, the control was a means to create strife. Much in the same way that Ocelot's control was.
The Man On Fire - Death
via SegmentNext
Finally, we come to The Man on Fire. With only one choice left, he has to represent Death in this analogy. And, while I do feel like this is the weakest connection, I think that there's is also a reason for that.
First of all, in the grand scheme of things The Man on Fire is a rather minor character. Whereas The Boss set forth the events of the entire series, and Big Boss actively participated in much of the series, and Ocelot was a seen and unseen hand in so many of the plots, The Man on Fire seems very small. However, when you think about what he represents, that kind of makes sense. He is the embodiment of revenge. While revenge plays a large part in motivating many of the characters throughout the series, it's often secondary to larger, more focused goals. Basically, revenge plays a small part.
Accepting that, we can say that a theme of the series is that revenge leads to death. Those characters that sought revenge were defeated by it. Volgin, Skull Face, Miller, Liquid Snake, The Gurlukoviches, even Naomi (though, it wasn't her death, but the death of who she wanted revenge for.)
In no scenario did a revenge attempt in the MGS series play out without damaging the person seeking revenge.
The horseman, Death, has a similar bit of triviality. I mean, suppose you have War and Conquest and Famine; Death is mainly just a consequence, at that point. It may even be welcomed, depending upon how the other three play out. Death is just the big "The End" sign (no Cobra Unit pun intended). Finality.
In relation, revenge comes for characters that have exhausted all other options and are ending their usefulness to the series. Big Boss doesn't try to get revenge for The Boss - so he goes on. Solid doesn't try to get revenge for his upbringing and his life - so he goes on. Gray Fox never tries to take revenge for his multiple defeats - so he goes on.
It's only the characters that are soon to die that seek revenge. Note that the only character who didn't die, while seeking revenge, was the one that would not have continued with her revenge plot, if she could. She made a mistake, due to ignorance, and that would have brought her down, but she was able to see through it, when she found out Gray Fox was alive.
So, while the Man on Fire may be a small part of the series, and his connection a weaker one to the analogy, I find it to be apt, given the some of the themes that span the series, and the role of the Death horseman.
A Hideo Kojima Game
Now, of course, there are some things that don't quite line up with this interpretation - The colors of the horses is a main one. And postulation like this just begs the question of unintentional coincidence, instead of authorial intent. But, I just like the idea of discussing the topics. If it turns out that this is all just one big happy accident, then I think it's a pretty cool one.
Let me know what you guys all think of the theory, and feel free to add to or detract from any of the ideas!
A few post notes:
If it was annoying you that I kept calling him "The Man on Fire" instead of Volgin, I did that specifically because I don't think the character of Colonel Volgin portrayed revenge like The Man on Fire does. It was only after he was transformed by Psycho Mantis that he both embodied revenge and solidified his place in this analogy by gaining a horse (at least, I don't remember him having a horse in MGS3).


If anyone was feeling like I left them hanging, I didn't have a good answer for the Whale. I don't know enough about Moby Dick to make a good guess. I mean, I have broad-stoke ideas, like the fact that the whale was just another allusion to Moby Dick like "Ahab", "Ishmael", and "Pequod". Or that the whale might have had some sort of meaning pertaining to a conflict within Mantis about who's mind was controlling him. A whale on fire might have been a sign that while Big Boss' weakly-sought revenge was a larger scale - the kind that takes years to put all together - it wasn't able to control Mantis like the burning revenge that The Man on Fire had. Just an indication that Big Boss was in Mantis' head, but it wasn't enough to quench the flames of hatred that Volgin burned with.

In any case, if you have any insight into the whale, feel free to let me know!